Post by HDM Legacy on Mar 5, 2016 23:17:26 GMT
"The thing about those lazy, pointy eared, daisy picking, moonstruck milksops is that they are either outrageously busy when you need them around, or obnoxiously interested in minding your business when only you need to be minding it. Best just avoid them altogether."
~Stone Lord Hargran Mhul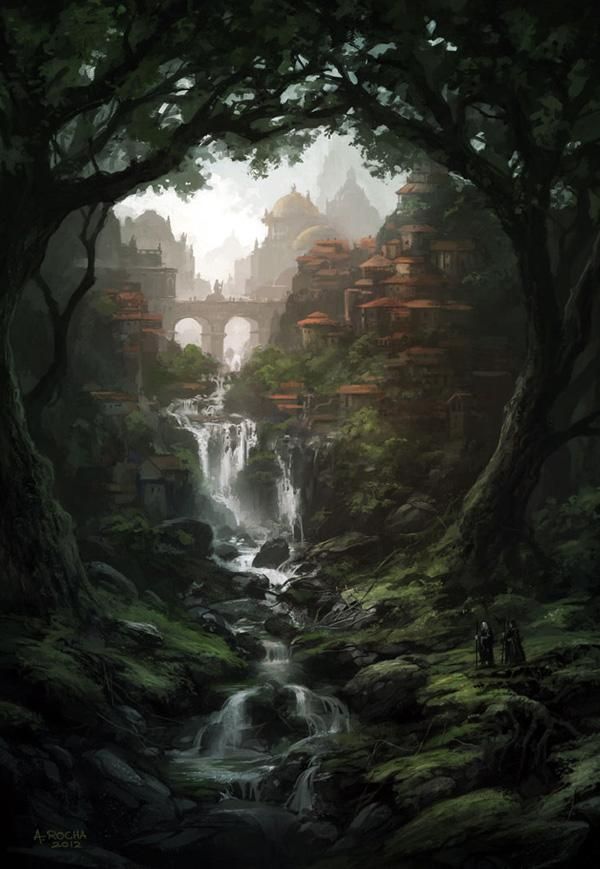 Country:
Orm Aethel
Captital:
Caer Narfon
Offical Language:
Elven
Population:
9,500,000. 68% Elves, 20% Gnome, 2% Half Elves, 2% Human, 2% Ushadi, 3% Halfing, 2% Other
Government:
Council of Princes
Head of State:
Queen Ilysanthe Sia`Faenon
Official Religion:
None. Worshipers of any evil faith are not tolerated, and either killed or banished as judged most convenient.
Allies:
None
Enemies:
Scythia, Morcavia. Dislikes Gray Hills.
Economy:
Hunter/Gatherer, Barter
Imports:
Steel, Iron, Adamantine, Mithral, Gems,
Exports:
Darkwood, Fur, Rare Herbs and Regeants, Ivory, Bone, Cured Meats, Wine, Art, Fruit
Overview
Meaning Orchard of the Gods in the tongue of the Elves, Orm Aethel remains the oldest sovereign kingdom in Aipana today. Never conquered by an invading army or ruled by a potentate not of fey blood, the elves who make up the majority of the population are a proud, reclusive, yet gracious folk. Seldom accepting visits by outsiders, the elves just as rarely depart their homeland. When they do venture into the outside world, their actions usually further the causes of good and beauty, sometimes in a frighteningly decisive fashion.
Geography
Towering redwoods, thousands of years old, dominate the landscape, interspersed with ancient gnarled oaks, tangled beds of vines, and immense, elegant, weeping willows near bodies of water, and countless other species of flora. As the largest contiguous stretch of forest in the known world, Orm Aethel's countryside contains numerous mountains, hills, meadows, rivers, lakes, cliffs, and streams in abundance. The capital, Caer Narfon, rests on an island in the middle of Lake Aliaril. Like other elven towns and villages, the city was built in harmony with nature, instead of over it. The love the elves have for their land and their respectful approach to harvesting natural resources have made Orm Aethel a paradise of unspoilt beauty. This simple perfection stands in stark contrast to the westerly neighboring countries of Morcavia and Scythia, both of which have raped their earth and water almost beyond healing or repair.
Climate
Orm Aethel is rightly called the enchanted wood, for the entire realm maintains fairly mild weather throughout the year. At latitudes where Morcavia is buried under twenty feet of snow in the winter, the forest simply receives a crisp frost upon the ground. When Scythia is suffering sweltering desert droughts, Orm Aethel is green with fresh life and growth. Crops grow almost year around, and the streams and lakes rarely freeze over. Whether by the hand of the gods, the magic of the druids, or some eldritch spell, the sun always shines brightly upon Orm Aethel.

Politics
Orm Aethel is a monarchy ruled by a King or Queen who is advised by a body known as the Council of Princes. The council members are heads of the seven most powerful elven families,who each apprise the monarch of different matters concerning the state of the kingdom and Aipana at large. As a long lived race who hold the virtue of patience in high regard, the elves often take years or even decades to thoroughly decide on a course of action regarding any particular issue. They debate every idea, research every bit of minutiae, and examine an issue from every possible angle. This is not to say they are incapable of making snap decisions when emergencies arise, but historically the ruling monarch and council tend to play the long game. They favor isolationist policies interspersed with timely, subtle, political maneuvers or swift, precise, military strikes when they wish to effect a change outside their borders.
Religion
Luasa and Eduna are the two most popular deities in Orm Aethel. Their churches co-operate closely with the Circle of Twelve, the woodland realm's most respected druids, and see to the spiritual and physical needs of the elves and their few trusted guests. All faiths but those of the dark gods are permitted, and being discovered as a faithful to any of those foul deities can easily result in banishment or death for the unfortunate worshiper.
Culture
As the oldest race in Aipana, the elves have had ample time to hone their civilization's knowledge, science, art, literature, philosophy, dreams, and image. Most elves live in small towns and villages composed of multiple extended families. A devoutly spiritual people, and as a rule deeply romantic despite their often arrogant facades, most elves live quiet lives hunting, gathering, and meditating.
They enjoy festive times with family and friends, and pursuing creative endeavors such as poetry, music, sculpture, or fencing. Some marry young, soon after coming of age, while others often pursue numerous hobbies and projects before settling down. Some elves become so absorbed in their pursuit of various art forms that they remain single their whole lives. Most all elves marry a single husband or wife for love. Arranged marriages are rare, and infidelity or divorce is unheard of, even among highborn families.

Military
All elves learn basic weapon skills as part of their upbringing, and as such every elven settlement is capable of defending itself admirably. However, The Royal Army of Orm Aethel is a thing of martial splendor scarce rivaled in all Aipana. Numbering thirty thousand strong and equipped in gear of a quality even the Bergs would envy; boasting centuries of intensive training, elven soldiers do not fight in battles. . .those who have faced them and survived report they seem to dance through it. There is a reason Orm Aethel has never fallen. And the elves' meticulously scientific yet artful approach to bloodshed is that reason.
Regional Trait
Child of Orm Aethel: +2 to Know Nature and either a single Perform or Craft skill, one of which becomes a class skill. Healing spells cast on you or by you heal one additional point of health.