Post by HDM Legacy on Mar 5, 2016 23:33:50 GMT
"Scythia? Why ever would you want to go there? Black sand and volcanic ash as far as you can see. Glowing mushrooms instead of trees, and as if goblins and hob goblins were not enough, fire giants. Fire Giants! I'm never going there, and if you're smart you won't either!"
~Milly Triptoes, Halfling Baker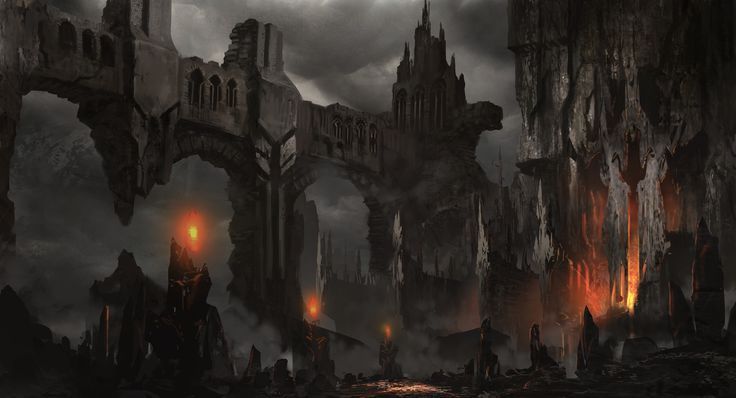 Country:
Scythia
Capital:
Blackforge
Population:
31,000,000 24% Hobgoblin, 26% Goblin, 21% Human, 9% Ushadi, 5% Elf, 3% Half Elf, 8% Dwarf, 4% Other
Government:
Military Dictatorship
Current Ruler:
General Vokun "The Elfskinner" Har'Gosh (official), King Sartur Imberaaken (de facto)
Official Religion:
Pyrhas/Risha`Kinagk
Allies:
Morcavia
Enemies:
Sarmatia, Gray Hills, Isenfiodr, Bergen, Orm Aethel
Economy:
Capitalist
Industry:
Weapon and Armorsmithing, Mercenary Contracts, Black Market, Smuggling, Slaving, Assasinations
Imports:
Grain, Meat, Water
Exports:
Weapons, Armor, Wood, Iron, Mercenary Contracts
Overview
Scythia, so named so for an agricultural economy that once rivaled Westvales', now reaps the wages of war and intrigue instead of wheat fields and melon patches. The homeland of the once honorable Hobgoblins and their mischievous pint sized cousins, the Goblins, Scythia's population remains officially autonomous though whispers abound that they are in fact ruled from the shadows by the ancient and sinister Fire Giants.
Boasting all the martial discipline of the elves, but little of their compassion or respect for life, the Hobgoblins and their kin have at one time or another fought wars with each of their neighbors, including their current allies, the Morcavians. With an economy built around conflict and industry, the country is a wasteland devoid of nearly any natural beauty except that of volcanic destruction and raw, primal heat.
Geography
Scythia is bordered on the north by Morcavia, on the west by their mortal enemies, the Sarmatians, and on the east by the elven realm of Caer Aethel. With northern terrain dominated by the volcanically active red mountains and the rest of the once fertile country a blackened, ash covered desert raped by strip mining and alchemical waste, the Hobgoblins import nearly all their food from their northern allies.
Even the sea itself has turned against their pollution, as all fish pulled from the waters near their shores are dead or diseased, and unfit for consumption. Their one remaining food crop is a species of unusually tough giant mushroom, which they grow under as well as above ground.
Climate
An arid wasteland where clean water is an unheard of luxury, multiple dry riverbeds and streams scar Scythia's landscape, and the only lakes present are thick, muddy, and toxic. Rain is rare, and the temperature drops below freezing in the winter, only to soar well unto the 100s during the summer. The constant volcanic eruptions and pollution have made the local population unusually resistant to smoke, fog, and airborne toxins.

Politics
In Scythia, the military is the state. As a military dictatorship, they are ruled by a hobgoblin General, whose authority is absolute. Existing under a constant state of martial law, penalties for disobeying orders or failing to carry out duties are harsh. Competing family groups of Hobgoblins constantly partake in an intricate political dance, generously accented with assassinations and duels to the death, in an effort to earn promotions up the chain of command. Officially the Fire Giants of the Red Mountains are Scythia's allies, but there are many who believe the General is only a puppet dancing on strings pulled by the mighty fire giant king, Sartur Imberaaken.
Religion
The Hobgoblins of Scythia adhere to an ancient cult known as Risha`Kanagk, or Ancestral Brotherhood. Once united in the common cause of ancestor worship, honor in battle, and historic family lore, the Cult split into three branches soon after the Darkening. Concerned respectively with conquest, survival, and redemption, the Burning Wargs, Will of the Ancestors, and Brother's Blades sects compete for the hearts and minds of the Hobgoblin people. With the heroic Brother's Blades nearly extinct, conflict continues between the Fire Giant backed Burning Wargs and the orthodox Ancestor's Will groups.
Culture
Scythia's culture is organized into four strict castes, which in descending order of rank are Warrior, Priest, Artisan, and Slave. The warriors rule and defend the country, while the Priests offer spiritual guidance to them as well as the Artisan caste. The Artisan caste is made of of skilled craftsmen and merchants who organize trade and resource production. Slaves are the lowest and largest caste, making up approximately half of Scythia's population. Regarded little more than chattel, this caste is comprised of unskilled workers and captured enemies kidnapped from other nations. They work the most dangerous and unhealthy jobs, and seldom live for long. Marrying outside one's caste is considered a serious offense, and doing so frequently results in death or banishment.

Military
The Scythian military is a viciously efficient killing machine rivaled in skill only by the elves, and in number only by that of their northern neighbors, the Morcavians. Cadres of swift warg riding goblin cavalry work with formations of disciplined hob-goblin warriors and war-mages. With front lines composed almost entirely of slave warriors meant as arrow stoppers, the hobgoblins have no compunctions against bleeding the most downtrodden among them dry if it means a tactical advantage. While they have not actually won a war since before the darkening, every battle has either been a stalemate or a near loss, with disproportionately heavy fatalities suffered by their opponents.
Regional Trait
Scythian: +2 to Survival and Stealth, one of which becomes a class skill; +2 to saves against airborne poisons, diseases, and gaseous spell effects.