Post by HDM Legacy on Mar 5, 2016 23:31:04 GMT
"As strong as they are beautiful. Ice cold efficiency one moment and boiling hot with uncontrollable rage the next. Flirting with you and then laughing you to scorn. I don't know what to make of Amazon women. And then there are those damned creepy lizards. . ." ~ Earnest Ziedil, Berg Merchant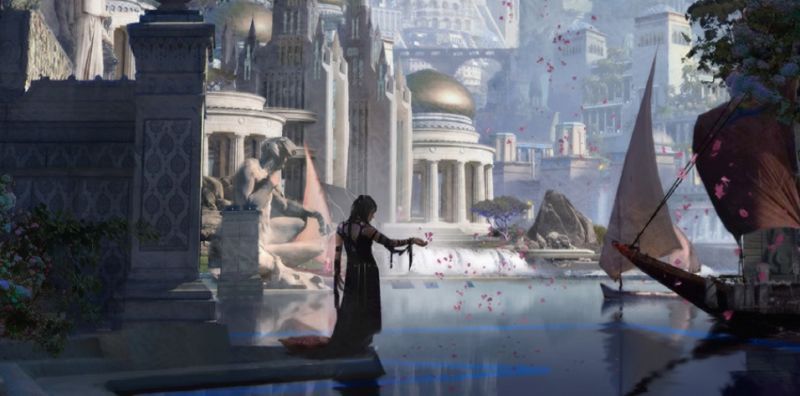 Country:
Sarmatia
Capital:
Porakhi
Language:
Sarmish(Primary), Ush (Secondary)
Population:
13,500,000. 45% Human, 35% Ushadi, 7% Elven, 3% Halfling, 4% Gnome, 3% Dwarf, 2% Half Orc, 1% Other
Government:
Sarmatian Federation of City States
Current Ruler:
High Matriarch Euterpe Galatas
Official Religion:
Kuari
Allies:
Etrusca, Isenfiodr.
Enemies:
Scythia, Aegia, dislikes Bergen and Morcavia.
Economy:
Capitalist
Industry:
Mercantile Shipping, Fishing, Shipbuilding, (unofficially) Piracy
Imports:
Copper, Wheat, Steel, Adamantine, Wood, Hemp, Turpentine
Export:
Coral, Pearls, Ambergris, Salt, Cheese, Fish, Whale Oil, Marble
Overview
Comprised of several hundred city states loosely bound together, the ancient nation of Sarmatia controls the majority of islands in the Basin Sea with a navy unrivaled in all the world. New homeland of the Ushadi, or Lizard Folk, Sarmatia's human population share a common ancestry and cultural roots with the Etruscans. Their social structure is the most unique in all the world, however, as Amazons are a strictly matriarchal culture. Their elegant monarchies combine with the savage tribal governance of the Ushadi, forming an oddly effective team.
Geography
With a geography similar to Etrusca, Sarmatia boasts the largest square mileage of shoreline in Aipana. Bordered by Morcavia to the North, Etrusca to the west, and Scythia the east, the Sarmatians are surrounded by enemies on two sides, making their friendship with the people of the Republic a geo-political nescessity. The nation is, however, more rugged than that of their western neighbors, with rocky cliffs, treacherous crags, and deep gorges lining the many inlets and harbors. Sarmatia boasts a great many freshwater springs that feed numerous brooks and streams across their country. Many call Sarmatia the Land of Fountains and Falls because of the sheer amount of water that flows from it into the sea. Porakhi, their capital city is home to one of the wonders of the world: Cerulean Bay. A massive harbor walled about by gleaming white marble and bright blue cerulean bronze, it can only be entered by passing a colossal set of gates operated by a system of pumps, counterweights, and pulleys.
Climate
Sarmatia's climate is nearly identical to Etrusca's, with hot, dry, summers and wet, mild winters. Unlike Etrusca, however, the Sarmatians do not need to rely on aqueducts and reservoirs to conserve water, as their country possesses the densest concentration of freshwater springs in the world.

Politics
Sarmatia is ruled by hundreds of petty amazon warrior queens called Matriarchs, who reign over individual cities and their surrounding countrysides and waterways. The lines of succession are matrilineal, with male children usually married off to political matches with other families as soon as they come of age. Female heirs are usually trained in warfare and politics, with some occasionally choosing religious studies instead. Most female nobility not in line for the throne pursue careers as diplomats, artists, craftsmen, priestesses, or adventuring sea captains.
The queen who presides over the city of Porakhi, the center of the Kuarian faith, is granted the honorific of High Matriarch, and it is her duty to lead the Sarmatians to war when necessary, as well as to mediate disputes between the lesser Matriarchs. Usually disagreements end with hurt feels and barely smoothed feathers, but occasionally violence does break out. In these cases, the opposing Matriarchs fight in single combat, sometimes to the death. Those too old or young to fight usually pick a champion from among their warriors, but those of fighting age are looked down upon if they chose to do so.
The Ushadi dwell mainly in the northern swamps of Sarmatia, and are allowed to govern themselves according to their ancient tribal customs. Each tribe controls a different section of the swamp, and trades or wars with other tribes as they see fit. Different chiefs are elected based on merit to the tribal council by the Ushadi, each handling a different aspect of life such as hunting, building, farming, warring, smithing, or magic. Disagreements don't last long in Ushadi tribes, and fights rarely end in death. Survival is too important to risk killing a valuable warrior or builder. Quick scuffles occur to determine pecking order, and then business resumes as usual. The Ushadi consider themselves separate from the Amazons politically, but when the High Matriarch goes to war, usually the tribes agree to help, especially if Aegia is involved.
Religion
The faith of Kuari, the Tempest, is dominant in Sarmatia, with small minorities adhering to the ways of druidism, Luasa, and Eduna. Female deities are respected more than males, and Achlys' devotees often derive a grudging measure of respect from the Amazon women, though it seldom comes with an equal measure of trust.
The Great Temple of Kuari is built around the Holy Spring in Porakhi, the site where Kuari's tears fell when saw her faithful being slaughtered by the forces of Pyrhas. The waters are said to contain mysterious and unpredictable powers, and every High Matriarch of Sarmatia has been baptized into office in those waters.
The Ushadi worship a more primal, feral, elemental interpretation of Kuari, whom they refer to as Scaled Mother of Dark and Still Places, or simply the Dragon of the Deep. Their religious ceremonies are often brutal, wild, and emotional, which contrasts to the more philosophically tempered Amazon approach. It was these differences that led to the brief civil war with the Sarmatians soon after their arrival in the country. After the darkening, when Kuari turned to violence and war, most Ushadi told the Amazons that this had been Kuari all along, and they simply hadn't believed it.
The Amazons usually agree to disagree, and the truth likely lies somewhere in between.
Culture
Because of their shared cultural heritage with the Etruscans, the Sarmatian people posses a predilection towards negotiation and compromise in politics, as well as the open minded pursuit of new philosophies and ways of life. Passionate and clever, they seek creative ways to solve their problems and like to undermine rivals before they become serious enemies. The likeness ends at the gender gap, however, as most men in Sarmatia are relegated to a specific set of jobs and duties, and fill menial labor positions while the women hold the power. The memory of the butchery at the Festival of Fountains still hangs heavy in Amazon minds, and while they love their men, they do not trust them with power.
Amazons love and live freely, regardless of gender. Many believe that "Men are for babies, women are for pleasure", and the faith backed opinion of the female form as the ideal perfection of beauty has done little to discourage this viewpoint. Just as many Amazons, however, are married to a single husband, and live relatively reserved lives. Still others may maintain entire harems of men and women for their delight.
This lifestyle has recently let to a souring of relations between the relaxed Sarmatians and the straight laced Bergs. While the leaders of each country still maintain ties, their respective populaces have developed considerable prejudices. One views the other as loose, and the other views the first as bigoted.

Military
As might be expected, the Sarmatians can project force across the sea in ways no other faction can. Advanced shipbuilding techniques and materials, rigorous training, and the ability of their Priestesses to control the waves grant the Amazon Navy unparalleled power. There are even rumors of mighty creatures of the deep sea that rise to the surface to aid Kuari's children in battle when the need arises.
Sarmatia's ground forces excel at amphibious assaults. Wielding gleaming tridents and clad in their specialized Cerulean Bronze armor, Amazon Myrmidons storm beaches and board enemy ships with a speed and ferocity that more than makes up for their lack of cavalry. When subtlety is required, their Ushadi allies are among the best at waterborne ambushers and assasins. More than one enemy fleet has sunk because the Ushadi bored into their hulls from beneath the waves without the sailors ever knowing. . .
Regional Trait
Sarmatian: +2 to Swim and Profession: Sailor, one of which becomes a class skill. You are familiar with the process of creating Cerulean Bronze, and as a Sarmatian citizen may purchase items crafted of this material at creation and craft them if you have the necessary skill ranks.