Post by HDM Legacy on Mar 5, 2016 23:16:02 GMT
"I can say without a shred of doubt in my heart that Etrusca is and always will be the best and brightest hope for humanity in this world. . .if only her people remembered their greatness."
~Emperor Julian Equitius, to the Senate of Etrusca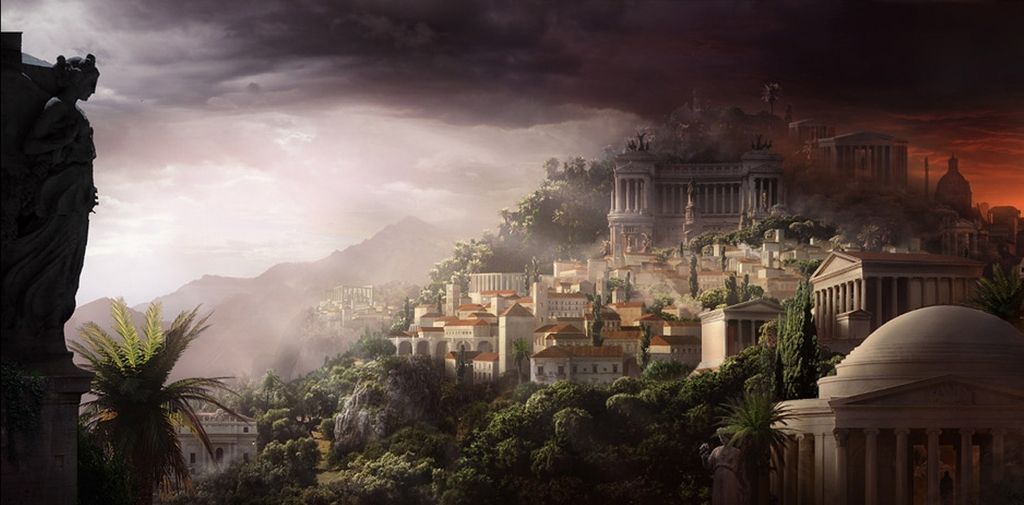 Country:
Republic of Etrusca
Language:
Etruscan
Capital:
Miranus
Regional Language:
Etruscan
Population:
13,000,000 (55% Human, 10% Lizardfolk, 11% Halfling, 9% Gnome, 5% Dwarf, 2% Elf, 3% Half Orc, 3% Half Elf, 1% Hobgoblin, 1% Other
Government:
Republic
Head of State:
Emperor Julian Equitius
Official Religion:
Solon
Allies:
Andilla, Bergen, Westvale, Sarmatia, City of Arten
Enemies:
Scythia, Aegia, dislikes Morcavia.
Economy:
Capitalist
Major Imports:
Copper, Tin, Exotic Hardwoods, Platinum, Wool
Major Exports:
Olives, Tomatoes, Cheese, Cedar, Pine, Purple Dye, Textiles, Iron, Silver, Gold, Fish
Summary
The seat of the once world spanning Miranian Empire, and the birthplace of Aipana's first true representative government, the Republic of Etrusca has fallen far since the days of it's prime. Crippled by internal corruption, the violent rebellion of it's far colonies, and the gradual political secession of it's closer provinces, the Republic boasts only a fraction of it's former power and glory. Despite this slow decay, the Republic is still known and admired as a beacon of intellectual innovation, economic freedom, and social progress, and respected by ally and enemy alike for the greatness they once possessed.
Geography
Etrusca is a peninsula surrounded on three sides by the Basin Sea, bordered on it's north by Bergen and Westvale, on it's West by Andilla, It also shares a small border with Sarmatia on the east. A range of small mountains reaches down from it's northern borders to just shy of it's capital city of Miranus, which is halfway down the peninsula. Etrusca enjoys the benefits of one major river, the Tuma, whose headwaters converge in the northwest portion of the Republic, and flows southward, almost to the southern tip of the peninsula.
Climate
Etrusca enjoys warm, wet, winters, and dry summers that range from warm to hot. This has led them to several advances in irrigation, such as aqueducts, artesian wells, and resevoirs, enabling them to save water collected during the west season, and use it to grow more efficiently during the dry summer months. Coastal regions boast a large number of small harbors and inlets suitable for ports, though none of them are as large as Sarmatia's wondrous Cerulean Bay.

Politics
Etrusca is a republic governed by a Senate elected every four years from among it's citizens, which makes and enforces all laws and policy. Literacy is required to vote, as is the completion of a civics course. Education ensuring both is offered for free by the Etruscan Government. Senatorial terms were once limited to two years, and re-election to a post was once illegal, but in recent years the Senate abolished term limits and doubled the length of those terms to four years. Career politicians are now common, which has allowed a useful mentor-ship culture develop between senior senators and their freshmen fellows, but has also sadly enabled entrenched corruption to take hold of the bureaucracy.
With the abolishment of hereditary nobility in Etrusca, the title of Emperor is now largely ceremonial; the Emperor functions more as a glorified ambassador than as a ruler, and his family are considered more celebrity than royal. The current Emperor is General Julian Equitius, a popular, charismatic war hero known for his warm, fatherly personality and dislike of the growing corruption in his homeland.
Citizens enjoy a number of benefits paid for by a complex tax system, including free medical care and a formal education.An advanced legal system also protects the rights of the people and enforces the law, though rumors circulate that not every official in the courts and Senate can be trusted. Several bribery, extortion, and blackmail cases have tarnished the government's sterling image.
The government co-operates with the churches of Solon and Eduna to run several large charities, most dealing with finding work and housing for the poor, and homes for orphaned children. Poor people with a spark of hope don't turn to crime, and the Republic makes sure that hope is never in short supply.
Etrusca has a long standing and bitter rivalry with Aegia, the powerful desert empire in the eponymous southern continent of Aipana.
Religion
Etrusca is fairly tolerant of multiple religions within it's boundaries. While the faith of the Sky God Solon enjoys a privileged position as the state religion, others are tolerated and permitted to operate free of tax or restraint. The exceptions to this are the religions of Moloch and Pyrhas, both of which are illegal upon pain of death. While Achlys' faithful are tolerated, it is generally assumed they are carefully monitored by Republic spies.
Culture
The Etruscan people enjoy a fairly egalitarian society where most citizens can expect to be treated fairly, regardless of race, sex, sexual orientation, or faith. Both men and women hold prominent positions in government, mercantile, and religious circles. Civic service is taken seriously, and military members are honored. Many foreigners enlist in the Etruscan military in order to earn citizenship, though this privilege can also be bought for a sizeable fee.
Art is a respected and well developed cultural medium, as most every Etruscan city boasts an amphitheater, and numerous craftsmen and authors produce masterpiece sculptures, paintings, and literary works.
While the Etruscan people do not enslave their own citizens, they do employ a penal workforce in their society. Non violent criminals are given a chance to work on public projects in exchange for lessened or commuted sentences. War prisoners are frequently enslaved however, and as the condition is hereditary, a large slave population has developed in the Republic. This has resulted in less actual work for citizens, the development of a relatively large upper class, and more free time for those wealthy Etruscans to spend in leisure activities.
Unfortunately, this has led to the growth of a hedonistic lifestyle among the country's elite, where week long parties featuring endless feasts of expensive delicacies, and wild, day long orgies are the norm. The Senate recently constructed gladiatorial arenas, where slaves and volunteers fight to the death for glory and gold. Growing discontent simmers in the more traditional middle and lower class citizens at their ruler's lifestyles, and the Senate hopes the new entertainment will ease their subject's anger.

Military
The Republic's military is organized into 12 professionally trained legions, each trained and equipped by their parent region. One of the most famous is the Sanguinem Aquilae, the Blood Eagles. Julian Equitius' old legion. Known for their endurance, long marches, and lightning fast infantry maneuvers, they are based out of Perona. Another famous Legion is the Eighth Legion, also known as Draco Turtures, or Dragon Turtles. They are led by Agathe Kalyos, a Sarmatian immigrant who joined the military in order to gain her citizenship in the Republic. They call the port city of Falice home, and specialize in Naval warfare. The 13th Legion, also called the Lost Legion, vanished during a joint expedition with the Morcavian Army into the Riftlands. Rumor and myth surround their fate, and their Legion name has been scrubbed from the history books. Their disappearance is a source of contention between the two countries.
Regional Trait:
Republic Citizen: +2 to Know Local and Know History, one will always be a class skill. The character becomes literate if they are not already, and gains one bonus language.